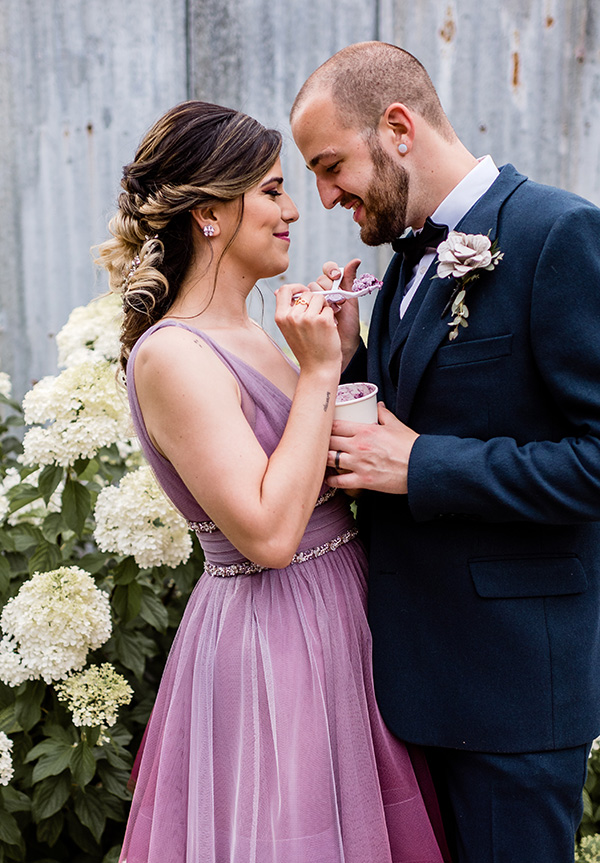 Adriana and her fiancé, Kyle, had their dream wedding mapped (and Pinterested out) until Covid-19 forced a shutdown and wedding plans came to a sudden halt. I interviewed her to learn more about how she pivoted and was still able to have the day of her dreams!
Q: First of all, congratulations on your beautiful wedding! Was it on the original date planned or did Covid affect the wedding timeline?
A: THANK YOU! It was really a team effort and we are so humbled by all the love! Kyle & I decided to move forward with our legal ceremony on our original date: July 31, 2020 (we were attached to the date!) and postponed the reception to next year. We'll likely do a vow-renewal ceremony to get to experience that with everyone too!
Q: When did you first learn that you might have to alter your wedding plans?
A: At the time I was still working in the bridal industry so I had a bit of a heads up. I'd say it was around mid-March when the stay-at-home mandate was extended to most of the country that we realized we were going to have to make the call and decide what direction we wanted to go in.
Q: How were you able to make the day meaningful with your close friends and family while also maintaining Covid-19 safety?
A: We did our best to spread out the seating for both our ceremony and reception. Our giveaway bags had hand sanitizer and wipes, we had hand sanitizing stations everywhere and all the food and drinks were individually wrapped. My sister-in-law made masks that had our initials and wedding date on them and of course, we had our nearest and dearest call in via Zoom!
Q: What was your favorite memory from the big day that you might not have experienced if not for the pandemic?
A: It's hard to choose just one!! Kyle's dad made the A-frame we used during the ceremony; we're looking forward to putting that in our forever home one day! Mine and Kyle's sister added so many little details like skeleton keys with wings on clear strings suspended under the tents at dinner and pages from our favorite book in my bouquet and flower decorations. We were also able to get small gifts for all our guests! The kids each got a toy to play with during the party, men got a key-holder and women got your Oak Ring in gold [and I wore mine in silver]. It was great to get to spoil everyone there with us.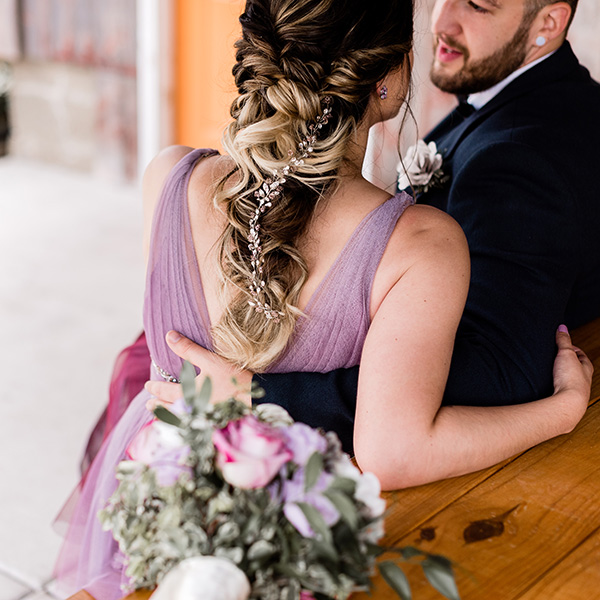 Q: I enjoyed working with you at Kleinfeld Bridal and designing a custom hair vine to match your unique wedding gown! What was the inspiration behind your wedding day look?
A: It was gorgeous and I'm pumped to have another custom Ellen Hunter piece in my collection. We decided our ceremony this year would be a fun opportunity to do something different from our original plan — we really liked our vision so we are keeping most everything 'as-is' for next year. A friend sent the link to my dress in a group chat with a 'would be nice to wear one-day' comment, it was on sale and I bought it within minutes. I wanted the polar opposite of what I plan to wear next year and loved how well the pink in the vine and dress complemented not only my dress but my ring as well!
Q: What advice would you give brides who have to change course on the plans for their wedding because of the pandemic?
A: Let yourself be sad, first and foremost. Even while planning what ended up being the perfect wedding day, it was still bittersweet. If you plan to do something similar to what we did, try and get a few of your favorite vendors to help out with your minimony (in my case, we had my HMU artists and Photographer) and take advantage of the more intimate setting. If you plan on waiting it out completely: make sure to still commemorate the original wedding date with a big glass bottle of vino and since you've [hopefully] taken care of a lot of planning details, just enjoy being engaged!
Q: What is your 'go-to' Ellen Hunter design for everyday wear?
A: Any iteration of Daphne! I have the comb in gold, mini comb in rose gold, headband in black and wreath in gold.